Biden - Obama will be tested
October 22, 2008
As I have mentioned several times in the past, if Obama will be elected, there is a significant chance that some despot, terrorist or regime may try to find out, how far they can go with this unknown quantity - hence the probability for conflict is much higher, if Obama is President.(See below older posts)

Senator Biden now , providing his newest gaffe, just confirmed my statements to this matter. (See video).
We will not qualify Obama at this time. He may be up to the task, or he may be not. But that is not the relevant quastion to ask.
The real question is for us voters: Why even go there?
Why even experience a "generated" crisis or conflict? Don't we have enough to cope with at present? Can we afford another (unnecessary) conflict, just because we have an inexperienced President?

Already the Obama campaign is trying to open up the backdoors, shoring up influencial leaders for that case that the public opinion will be against Obama very soon. They obviously foresee that those many promises can never be kept and the polls will swing soon. I ask again: why even go there? Why do we have to first land brutally hard, before we acknowledge that he is not the right President for these harsh times?

Obama will (be forced to ) abandon most of his lofty promises. He will raise taxes. He will move away from drilling and nuclear power. he can never follow through on his domestic almost socialistic plans. He will have to go back on Iraq. he will have to go back on Pakistan. He will not keep his promises and at some point the American People will feel massively misled, when the consequences kick in.

Why not do the right thing right now and prove the media and pollsters wrong?
We are a fundamentally fair people.
Is it fair to have a 20:1 Marketing Money advantage and swamp the field with adverts?
Is it fair to see 57: 16 of the leading Newspapers in the Obama tank?
is it fair that 8:1 of the TV networks support Obama?
Is it fair to blame the GOP and most of all Bush for an economy crisis which had been 40 years in the making?
Is it fair to completely overlook Pelosi and co. who dominated congress during the last 2 years, killing legislation which could have averted the collapse?
Is it fair to speak of tax cuts but in effect raise taxes, hence mislead the American People?
Is it fair to link McCain to Bush?
Is it fair to woreship a candidate, who is a lawyer, trained to never say anything of substance but stay ambivalent?
Is it fair to completely overlook the qualifications for the most important job in the world?
Is it fair to overlook the kind of people Obama surroounds and surrounded himself with?
Is it fair to see an election decided by a huge ground operation dominated by strange organizations such as ACORN, investigated by the FBI in more than 14 states?

We once again call on the American People to be fair and go with the underdog.
Prove those media pollsters wrong. Exercise sound judgment and not emotion.



________________________
History Will Judge
By Charles Krauthammer
WASHINGTON -- For the last 150 years, most American war presidents -- most notably Lincoln, Wilson, Roosevelt -- have entered (or re-entered) office knowing war was looming. Not so George Bush. Not so the war on terror. The 9/11 attacks literally came out of the blue.
>>>> Read entire article
________________________
Hamas, Hezbollah: 'Legitimate claims'?
>>>>>
Oh, how I wish Barack Obama would take my phone calls …
I would surely like to follow up on an interview he gave David Brooks of the New York Times in which he stated Hamas and Hezbollah have "legitimate claims" that are being undermined by the terrorist groups' commitment to violence.
My question to the Democratic Party presidential candidate: What are those "legitimate claims" of Hamas and Hezbollah?
Perhaps I won't have to ask directly.
Maybe some enterprising reporter who has access to the anointed one will find the chutzpah to ask the obvious question.
Then Obama might get a chance to elaborate on what he believes are "the root causes of problems and dangers" currently being unaddressed by U.S. foreign policy.
But I for one would really like to know which of the claims of Hamas and Hezbollah are "legitimate" in the eyes of Barack Obama. I think it's a very important question.
>>>>>>>
_____________________
Hamas Endorses Obama
On Sunday, Aaron Klein and John Batchelor interviewed Ahmed Yousef, chief political adviser to the Prime Minister of Hamas, on WABC radio.
The interview produced a scoop which, for some reason, has not been widely publicized: Hamas has endorsed Barack Obama for President. Yousef said, "We like Mr. Obama and we hope he will win the election." Why? "He has a vision to change America." Maybe Yousef has some insight into what Obama means by all these vague references to "change."
Of course, Hamas's taste in American presidents is suspect. Yousef also described Jimmy Carter, who was about to pay a call on Hamas when the interview was taped, as "this noble man" who "did an excellent job as President."
Yousef was asked about Obama's condemnation of Carter's visit with Hamas, but didn't seem troubled by it. Hamas, he says, understands American politics; this is the election season, and everyone wants to sound like a friend of Israel. Nevertheless, he hopes that the Democrats will change American policies when they take office.
_____________________
Russians invade Georgia
First proof for the danger Putin poses with his reactionary vision towards former glory is presented by the current invasion of Georgia.

Who was again the one candidate who saw this coming? You guessed right - it was John McCain. - heavily attacked by the Democrats for "living in the old daysof the cold war". It was McCain who warend us again and again of the danger of these tendencies. It was McCain who called for expansion of NATO with the republics of the former Sovjet Union, while Obama was silent. Who, do you think has the calibre to lead us during a time, where Russia rediscovers its imperialism?
__________________________
Radical Islam - Threat to the entire Free Western World

I invite you to click here and watch the controversial dutch documentary about Radical Islam and the Quran "Fitna"

I was not able to embed the player, as Youtube considers this documentary as too cntroversial... This is not about fear mongering or scare tactics - FITNA is a brutally realistic depiction of the mindset of many thousand of orthodox muslims. While we must consider, that a majority of Muslims are peaceful, it must nevertheless be said, that this religion never saw any reformation, and the Quran is still an archaic piece of dogma. It poses a huge moral dilemma on Muslims, as they, if they wanted to adhere strictly to the verses, would have to follow a way of confrontation.
Even though the images will shock you, we deem the posting of the movie as appropriate, as we must remain vigilant and aware of the kind of threat the Western Free World is facing still. Most of all - Many amongst us are already taking our domestic peace and safety for granted. A Bit of a reminder will serve us all, when we have to elect a strong president.

The threat is too grave to leave it to an amateur or a person who will appease these fanatics as Hitler had been appeased initially. This aspect alone deserves a man with deep experience and realism. No room for error.
_________________________

A Gaffe, an Absurdity, and a Policy
by Charles Krauthammer
>>>>>Before the Democratic debate of July 23, Barack Obama had never expounded upon the wisdom of meeting, without precondition, with Mahmoud Ahmadinejad, Bashar al-Assad, Hugo Chavez, Kim Jong Il or the Castro brothers. But in that debate, he was asked about doing exactly that. Unprepared, he said sure -- then got fancy, declaring the Bush administration's refusal to do so not just "ridiculous" but "a disgrace."
After that, there was no going back. So he doubled down. What started as a gaffe became policy. By now, it has become doctrine. Yet it remains today what it was on the day he blurted it out: an absurdity. >>>>
______________________________________

Next - let us examine Obama's Stands on IRAQ:
by Charles Krauthammer
Obama's Plan for Defeat
>>>>>The disconnect between what Democrats are saying about Iraq and what is actually happening there has reached grotesque proportions. Democrats won an exhilarating electoral victory in 2006 pledging withdrawal at a time when conditions in Iraq were dire and we were indeed losing the war. Two years later, when everything is changed, they continue to reflexively repeat their "narrative of defeat and retreat" (as Joe Lieberman so memorably called it) as if nothing has changed. >>>>>
_____________________________________________

Wouldn't you agree that a commander in chief should personally know the horror of war and hence use the defense forces wisely?

A strong defense ensures peace in times of war. And we are in a war, let us not kid ourselves. Eliminating Saddam Hussein was the right thing to do - even if only for humanitary reasons. America has a moral obligation to propagate the pronciples and freedoms of the best constitution in the world.



I think that John here as well has the right position and will be a respected and worldwide appreciated president. After years of POW this man will never use the army lightly, but will at the same time never shy away to use it, if needed. That's the man I would like to see as commander in chief, surrounded by millions of Islamic fanatics who will never shy away to commit atricities against civilians.



Just spotlighting the Islamic threat, go ahead and watch below videos, secretly taped in the Mosque in Birmingham. Not only will you see some distinctive similarities with the hate speeches given by Reverend jeremiah Wright (see facts about Obama), you will on top of that be appalled by the hate the Western World is facing by a growing segement of the Islamic Population.
You be the judge:
Dispatches - Undercover Mosque I (UK)


Dispatches - Undercover Mosque II (UK)

Dispatches - Undercover Mosque III (UK)


Dispatches - Undercover Mosque IV (UK)
Please Pay Attention to The Statement, that We created the Aids Virus and other diseases to eradicate the Muslim (See, where Wrigt took his intelligence from?)Does it strike you as disturbing, how the Wright rhetoric, Obama and his family was exposed to for over 20 years, is almost identical to the teachings of most extreme, radical , and fanatic islamists?

Dispatches - Undercover Mosque V (UK)

Dispatches - Undercover Mosque VI (UK)

I leave the conclusions to you, Dear Reader. If you, after having watched, what is in fact preached in Western Mosques, still think, that we do not need to remain vigilant and strong and there is no real danger posed to us by Radical Islam, you are beyond help. If only 0.1 % of all Muslims are orthodox believers, we face thousands of potential terrorists of the calibre of Osama Bin Laden. It would make for the single largest Terror Organisation of all time. Estimates of supporters of radical Islam are however much much higher.........
This is no scare tactics or fear mongering - It is the cold hard reality we are living in, which is why we must elect a leadership which acknowledges this threat and is willing to conofront it without ifs and buts.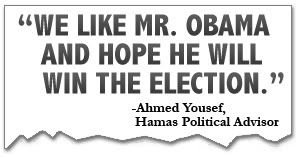 Some disturbing material about the IRAN Threat consolidated by Wolf Howling:

>>>>>>The case for attacking Iran's Qods Force (see here and here) as a means to stop their proxy war and attempts to "Lebanize" Iraq is picking up ever greater evidentiary support as new revelations of Iranian arms shipments and training of militias using Hezbollah surrogates is making the news. This is no longer an "American" issue. It is now recognized by at all levels of Iraqi government and society as a major threat.>>>>>>

The IRAN Threat goes even farther, which is why we must keep a military presence in this region.



Why the Iranian Theocracy's Nuclear Plans must be stopped
>>>>>>There is a radical difference between the Islamic Republic of Iran and other governments with nuclear weapons. This difference is expressed in what can only be described as the apocalyptic worldview of Iran's present rulers. This worldview and expectation, vividly expressed in speeches, articles and even schoolbooks, clearly shape the perception and therefore the policies of Ahmadinejad and his disciples>>>>>>>
Inasmuch as it is hard to conceive for us Western Infidels, how anyone can blow himself and a bunch of innocent people up in a market place, it is even harder to appreciate the fanatism of an entire government, willing to "sacrifice" their own people and country for their skewed mission. As long as this Theocracy is in power, driven by their mission to wipe Israel off the map and destabilize the entire region, a solid military presence by the US is mission-critical. Not only to stabilize IRAQ as a counterbalance to IRAN and Syria, but moreso to be able to mount a fast response and deter IRAN by conventional means. The Cold War presents great historical evidence to support this position.
Solid evidence for IRAN seeking to establish a nuclear Arsenal is presented again on wolf's website.
Now - let us ponder the question of a hasty withdrawal from Irak as proposed by Clinton and Obama once again...... Talk about judgement.
_____________________________
Great contributions to this topic by Wolf Howling:

Obama and Piece in Our Time
>>>>Obama's foreign policy resembles and portends to be every bit as disastrous as Neville Chamberlain's .



Indeed, Neville Chamberlain's choice to talk with Germany and seek peace in the late 30's missed the last real opportunity to stop, at then minimal cost in blood and gold, a war that ultimately claimed near 60 million lives and destroyed Europe's economy for decades. >>>>>>
Obama disparages the military and gets a pass on IRAQ.
>>>>>Whether to withdraw from Iraq has tremendous ramifications for our national security, given the effect such a withdrawal would have on Salafi terrorism and Khomeinist adventurism. Yet not a single Democrat has been seriously questioned on this by the MSM.>>>>
______________________
Obama on Afghanistan's Casualties:
(Washington Post)
Which once again is a bit of evidence to this inexperience and lack of detail knowledge about key defense issues. We can not afford a layman in a time of war to make one single bad decision. The room for error in the meantime has become tiny. I'd sure sleep better, if McCain was our Commander_In_Chief.
________________________
The Advancing Iranian Nuclear Program
By Charles Krauthammer
>>>>>>It is time to admit the truth: The Bush administration's attempt to halt Iran's nuclear program has failed. Utterly. The latest round of U.N. Security Council sanctions, which took a year to achieve, is comically weak. It represents the end of the sanctions road.
The president is going to hand over to his successor an Iran on the verge of going nuclear. This will deeply destabilize the Middle East, threaten the moderate Arabs with Iranian hegemony and leave Israel on hair-trigger alert.>>>>>
_________________________
Obama's Position On IRAN - shockingly naive:




_____________________
Nonproliferation's Time Has Passed
By Charles Krauthammer
>>>>>WASHINGTON -- The era of nonproliferation is over. During the first half-century of the nuclear age, safety lay in restricting the weaponry to major powers and keeping it out of the hands of rogue states. This strategy was inevitably going to break down. The inevitable has arrived. >>>>>
________________________
In light of above evidence, would you possibly consider giving a Newby the handshake for his foreign policy platform? Obama's lack of experience, his naivety, outright dangerous propositions and plans would in all probability lead to a desaster of global magnitude.

it is our strong opinion that these times require strong, predictable leadership.
We do not like Romney - but for onvce he got it spot on:

"This is not the time for an internship with the Presidency of the USA".